Interview with Lindsey Dal Porto, Technical Recruiter and Sourcer
January 7th, 2015 by lewis
Tweet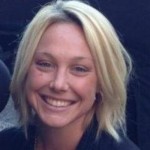 Lindsey Dal Porto is the technical recruiter and sourcer for BetterWorks. BetterWorks is an enterprise goals platform for driving operational excellence and providing powerful insights about how work gets done.Before BetterWorks, Lindsey worked at FitBit and Living Social. Lindsey graduated from the University of California, Berkeley with a bachelor's degree in political science and Italian. I had a chance to chat with Lindsey about a unique recruiting tool she uses called the Legends List and how candidates can get on that list.
Lindsey, thanks for taking the time to be with us today. Can we start with a little background on yourself?
I'm one of many recruiters here that works for a small startup, BetterWorks. There are 35 people at the company, and I'm in charge of recruiting all of our engineers. Before that, I was at FitBit and KIXEYE, which was a gaming studio. Before that, I was an outdoor active travel trip leader. I took a lot of people on biking trips around the world. I'm from the Bay Area, and I went to school at Berkeley.
The reason I reached out to you: the Entelo blog referenced a fascinating concept called the Legends List. Can you tell us more about it?
Legends List is a list of people who I want to keep on top my network. It could be candidates that I work with in the past. It could be people that I meet at a meet-up. It could be network or industry professional. It could be people that I'm introduced too. It could be other industry professionals such as other recruiters of agencies who do something totally different than I do. So the people in my list is a way to maximize my recruitment funnel and to help me do my job as well. It contains people who are very well networked, and people who are very well vested. It includes people who I am looking for. It includes people who I can learn from and teach to. It consists of people where we can have a mutually special relationship.
Can you give us some examples?
The other day I meet a guy who has a company. We had a great conversation, and I put him down on my Legends List. He's one of the top candidates I want to work with. Maybe down the line, he and I can connect. I've also got top candidates who I want to work with. Let's say I've got a candidate who turned down our [job] offer but continuously sends us referrals. They are definitely on my Legends List. There are some brilliant senior engineers at KIXEYE that I am constantly reaching out to for referrals.
It sounds like you are collecting legends from a variety of different sources. What is your Legends List process like?
It is a monthly process for me. I have a calendar reminder to check my Legends List, which is an Excel document. I recalibrate it during that monthly process. For each person, I include names, emails, who they work for, etc. One of the most important things is to figure out what's the best way to follow up, which is different for each person. I also include in my spreadsheet how I met that person.
The personal connection is important. Even the year I met them is very helpful. I think that if you take the time to follow up, even twice, you're already going above and beyond what [other] people usually do.
During the follow-up, what kind of things are you reaching out to them with?
Let's say I met someone who I really want to bring on our team. I think they are a fantastic engineer. They have a great background. I'm not going to hit them up on Facebook just to bring them on the site to be with our team right away. Instead, follow up with a simple "Wonderful to meet you," "Let's keep in touch," or "Keep me posted to how things are going." Or perhaps it's "We have a company game night. We'll love for you to come." Even stuff like, "What is [a common acquaintance] up to?" or "How is life treating you?" helps. Making a personal connection with people is the way to go.
Your description reminds me of dating. Does that analogy apply?
That's so funny you say that! I think it's so similar. Taking the time, the extra 5 minutes out of your day to really tell them something meaningful. You don't want to give them the feeling that you're emailing 20 people an hour. Even something as simple as "Oh, I love your website, those pictures of Southeast Asia you have there were awesome" letting people know that you invested your time into them. Because ultimately, people love to be flattered, and they love to be complimented.
Who makes it to your Legends List? Do they have to be software engineers? Can they be a non-software engineer? What's the criteria? Do you have different tiers? Are there A-list people? B-list people? C-list people?
No, they don't have to be technical to make it to my list. Some folks – I've worked with in the past. Other folks – we've made an offer, and they've turned it down. I add a lot of people I've met at Meetups. I also like Hired.com. It is one of my favorite recruiting tools. You have pay fee, but it is people who are active in the market.
Do you share your Legends List with others?
My network is very open, but I don't necessarily show people my list.
You don't want to show your scratch notes.
Exactly. I love introducing people to others in ways that is a little bit less invasive. With that being said, I refer hopeful candidates that I've not been able to hire. Actually, I just talked to an engineer about 2 weeks ago. I thought [he] was a great candidate, so I sent him to a couple of different recruiting agencies that I've worked with.
How many people are on your Legends List?
85.
Do you recalibrate or take people off the Legends List?
I do review the Legends List from time to time. It makes it easier to manage, and it keeps me on my toes a little bit more.
---
If you liked this article, let us know by clicking Like.