How You Can Manage Workplace Emotions, a book review of It's Always Personal
October 11th, 2011 by lewis
Tweet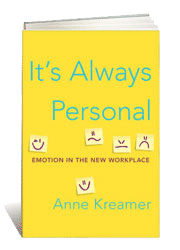 The book
It's Always Personal: Emotion in the New Workplace by Anne Kreamer, Random House
The backstory
Kreamer begins the book with her own experience at Viacom, where she was a senior executive at MTV Networks.  She recalls a heated encounter with Sumner Redstone, Viacom's then CEO.  The ensuing tears leads her to investigate and subsequently write a book about emotions in the workplace.
Why it's relevant to you
Challenging projects, difficult bosses, and stubborn co-workers can lead one to strong emotions.  Whether it's fear, anger, or anxiety, it's important to manage them appropriately — not only to improve personal happiness but also workplace performance.
Key takeaways
The author cites a powerful tip from Mary Prefontaine, President and CEO of the ICAN.  Mary recommends that employees create an emotional journal to document what they are feeling, a few times a day.  Once you've documented what you are feeling, use Kraemer's tips on how to manage fear, anger, and anxiety (see below).
Tips to Manage Anger
Change perspective – imagine your opponent as a 2-year old
Share anger in a private meeting location
If you accidentally blow up on someone, give a genuine apology.  If they tell you that you that they felt angry, don't defend or justify. Just listen and receive the communication; take deep breaths and take it in.
Use the DING framework

Deep breaths
Imagine what the other person is feeling
Name the emotions and the other person are feeling
Go on
Tips to Manage Fear
Develop a stronger awareness of what's going on around you
Ask people for help
Do a personal activity that helps you feel good about yourself (i.e. build self-confidence)
Tips to Manage Anxiety
Meditate
Take a walk
Smell the roses or look at an object that makes you happy
Ask yourself, "What's the worst possible thing that can happen?"
Write down small action steps — and redirect your anxiety into action
Why this is better than other books about workplace emotions
Kreamer makes her points with detailed research and brings them to life with personal anecodotes.  You'll be hard pressed to find other authors that care about this topic as deeply as Kreamer.
---
If you liked this article, let us know by clicking Like.
One Response to "How You Can Manage Workplace Emotions, a book review of It's Always Personal"